National
"Game Responsibly by Protecting Privacy and Safeguarding Mental Health" say experts
"Youth for Responsible Gaming", an initiative by Delhi based Policy Advocacy group "Policy Matrix" organized a webinar on 14th May 2023. The topic of the webinar was "Responsible Gaming for Youth in India" and the panel discussion involved academicians – Dr. Lalat Indu Giri –  Assistant Professor from the Dept. of Electronics & Communications Engineering at NIT Goa, Prathamesh Churi – Assistant Professor from the Dept. of Computer Engineering at NMIMS University, Santosh Dubey – Child Rights Activist and Author, and Priyank Dwivedi – Senior Sub Editor, Aajtak.in.
The discussions were initiated by deliberations by Mr. Prathamesh who shed light on the privacy element of gaming. He voiced his opinion about the benefits of gaming for users involving social bonds and cognitive development. He also advised against revealing critical personal details like full name, address, phone number, and email in chat rooms, which run parallel to gaming applications. According to him, such details can be used by fraudsters to indulge in malicious activities like identity theft, beside financial loss by brute forcing into digital wallets of banking accounts. He advised the youth to carefully balance gaming with real life to avoid becoming prey to mental health problems, which can be severe at times depending upon the degree of game addiction in an individual.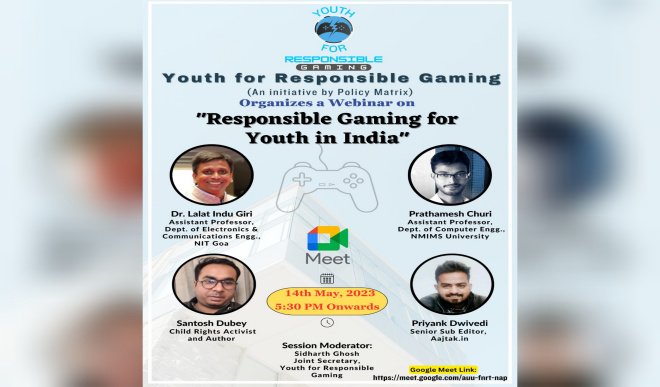 This was followed by an address by Dr. Lalat Indu Giri, who elaborated on how children of kindergarten age become hooked on attractive mobile applications and simple measures that parents can use to avoid such a scenario. He also accepted that in the digital age, no parent can cut off their children from exploring technology, but it can be carefully monitored to ensure their wellbeing. A critical point that the speaker made was that nowadays games also involve real money, i.e., a "game of skills" and caution must be exercised whenever real money is involved in activities such as gaming.
The third speaker for the session was Mr. Santosh Dubey who shared his rich experience of working with community members in rural areas. He advocated for greater awareness of responsible gaming among the masses and even explored the idea of including this in some form in the school syllabus.
The last speaker, Mr. Priyank shared his own experience of getting addicted to mobile gaming and the detrimental effects he personally observed. He advised youngsters to self-probe occasionally to ensure that they aren't getting addicted to any of the games. He also hoped that more such sessions would be organised by various organisations in order to sensitise the masses towards these pertinent issues.
The session's moderator derived the address of gratitude for the panel speakers after the final speaker finished speaking, and then the session came to an end.